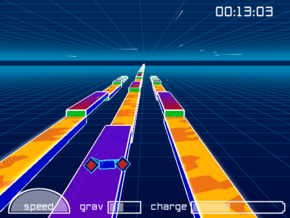 Tasty Static is a videogame where you go really fast and jump a lot. You'll probably get really annoyed along the way too.

It's a clone of an excellent PC oldie called Skyroads by BlueMoon Interactive, which is required playing if you like this kind of stuff.

Tasty Static is currently available in three fantastic flavors. There is also a Windows-only level editor.
OH HEY! 3/28/20 - version 1.1 released
Tasty Static provided as freeware by Naomi Alterman. Please do not distribute under different licensing conditions or with altered branding.